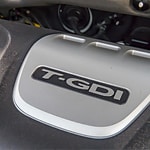 The Elantra might be Hyundai's top compact car. Reliability, long-life, and excellent comfort support its popularity. The performance features also deserve accolades. Hyundai produced a vehicle that delivers impressive performance in a small package.
The 147-horsepower gets drivers where they want to go. Where does the horsepower come from? The 2.0-liter four-cylinder engine generates it. Whether commuting to the office or running errands, the Hyundai Elantra provides ample power and capabilities. As long as drivers take care of vehicle, expect performance and handling to remain capably consistent.
Different versions of the Hyundai Elantra are available. A less-powerful "Eco model" exists, offers additional efficiency at reduced 128 horsepower. Someone interested in a sports car can go with an engine that delivers 201 horsepower.
If you wish to take a test drive on preferred roads and expressways in Gonzales, LA, come to Ralph Sellers Hyundai. Our sales team can help you look at models and set up a test drive.