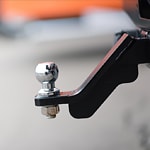 Many Gonzales, LA locals buy powerful trucks and SUVs with the express goal of towing their campers, boats, or other recreational items. Although some autos are rated for hauling incredibly heavy loads, this doesn't mean that they're automatically ready to be hitched to massive trailers. This is why at Ralph Sellers Hyundai, we want to share a few tips for getting your vehicle ready.
Make Sure Your Auto Has Been Tuned Up
Towing places a lot of extra stress on autos. If your truck or SUV hasn't been professionally maintained in a while, schedule an appointment for a full tune-up. This way, small, developing issues can be identified and resolved before extra weight and stress are added.
Take Stock of All Weight in the Vehicle
Understanding your vehicle's load limits for towing and hauling is important. In addition to accounting for the weight of your camper, you should also consider the weight of all passengers, your in-vehicle and in-trailer cargo, and any items that are loaded in your truck bed. Accurately totaling the weight of your haul is essential for avoiding accidental overload.