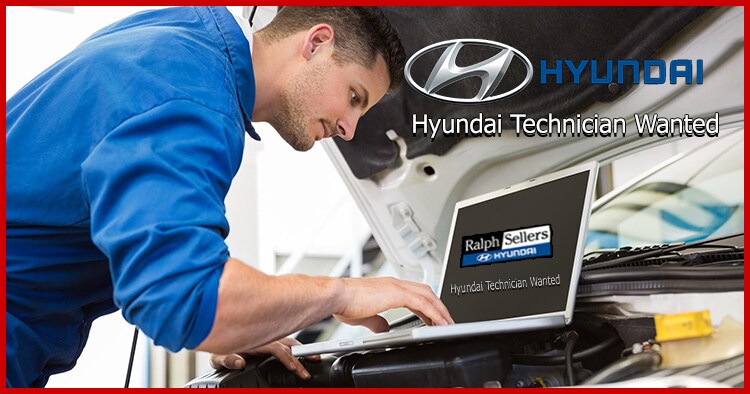 Contact Shane Vines at 225-644-7542 or Apply Online at the link below
Ralph Sellers Motor Company is seeking trained and Hyundai Certified Service Technicians / Mechanics that are highly motivated team players ready to make a great living. We'll pay you more than you are making now! Ralph Sellers Provides a positive, professional work environment with the best training in the industry. We believe in employee development through training and advancement from within. Start your career at Ralph Sellers Motor Company today!
JOB DESCRIPTION
Hyundai Service Technicians / Mechanics are responsible for performing vehicle repair and maintenance work as assigned in accordance with dealership service center and factory standards.
RESPONSIBILITIES
* Perform work as outlined on repair order with efficiency and accuracy in accordance with dealership and factory standards
* Diagnose and repair any malfunction
* Communicate with parts department to obtain needed parts
* Examine the vehicle to determine if additional safety or service work is required.
* Notify service adviser immediately if repairs cannot be completed within the time promised
* Document work performed
* Road-test vehicles when required or refer to the test technician
* Keep abreast of factory technical bulletins
* Ensure that customers' cars are kept clean
* Keep shop area neat, clean, and can account for all dealership-owned tools always
* Understand and follow federal, state and local regulations, such as those governing the disposal of hazardous wastes
* Must follow all Hyundai and Dealer safety policies and procedures and immediately report all accidents to a manager or supervisor
QUALIFICATIONS
* Hyundai Certified Service Technician experience is required
* Ability to read and comprehend instructions and information
* Must be a team player
* Valid driver's license
* Clean driving record
* All applicants must be authorized to work in the USA
* All applicants must be able to pass pre-employment drug screen
BENEFITS
* Opportunities for Advancement
* Competitive Pay
* Medical Insurance
* 401(k) Options with Employer Contributions
* Paid Vacation
* Hours: Monday-Friday: 7:00 am - 6:00 pm! Some Saturdays off! Closed Sundays!
* Clean and pleasant work environment
* Our service department has the latest equipment!
Ralph Sellers Motor Company is a Chrysler, Dodge, Jeep, RAM Truck, Hyundai & Used Car Dealer in Gonzales, serving the Greater Baton Rouge area. At Ralph Sellers Motor Company, we strive to offer all our guests the highest level of courtesy, professionalism, knowledge and honesty. As a family-owned and operated business, we strive hard to make sure every one of our guests feels completely satisfied.
Contact Shane Vines at 225-644-7542 or Apply Online at the link below