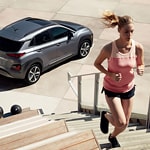 The Hyundai Kona is a new car that has been in the market for less than a year. The design of this vehicle is much different from other cars in its class, and it has features that make it stand out. If you're thinking about buying a new compact SUV, then we recommend checking out the Hyundai Kona!

The car comes in three different trim levels. The base model is called the Blue, the next is the Red and finally there's a white Limited edition that comes with a lot of neat features!

The Hyundai Kona also has a lot of safety features. It has backup cameras, traction control and even blind spot monitoring! This vehicle is perfect for any driver who wants a safe yet sporty ride!

With three different trims and many features, the Hyundai Kona is a new vehicle that has a lot to offer!