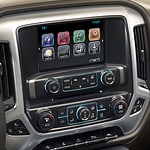 If you're like the rest of us, you find it hard to ignore your smartphone even while you're at the wheel. From business appointments to news and errands, life presents endless reasons to consult your phone while driving. Fortunately, Android Auto minimizes driver distraction, making it safer to multitask at the wheel. How? Our Gonzales, LA Ralph Sellers Hyundai tech geeks have the answers.
What Is Android Auto?
Android Auto is a downloadable app or an app built into smartphones with Android 10 or later. The app connects your smartphone to your vehicle infotainment system. After the two are connected, your car infotainment touchscreen mirrors many of the screens and apps on your smartphone.
Benefits of Android Auto
Use Android Auto's hands-free functions to maximize your phone's capabilities. Say 'Hey, Google,' for help, or initiate hands-free operation of the most important apps you use daily:
Place hands-free calls, hands-free chat, texting, messaging
Locate gas or EV charging stations
Pull navigation via Maps or Waze
Stream: YouTube, Spotify, iHeartRadio
Listen to audiobooks
Hear up-to-date news