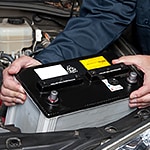 Have you ever been in a hurry only to find that your car will not start? Do not let that happen to you in the future - schedule car battery service and replacement here at Ralphs Sellers Hyundai today. We can test your current battery and discuss your options if you find yourself in need of a new one.
In general, a battery will last between three and five years. Certain circumstances can make you need to replace yours sooner. If you have any doubt about the performance of your battery, no matter how old it is, bring it in to have it tested sooner rather than later.
If you want your battery to last as long as possible, routine battery maintenance will help. That includes cleaning the terminals and tightening your connections. Our team can take care of all of this, plus dispose of your old battery if you need to have yours replaced.