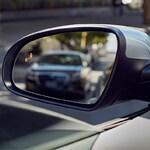 The Kona is Hyundai's newest sport utility vehicle, and it comes with a variety of engines. The base engine for the Kona is the 1.6-liter turbocharged four-cylinder, which has an output of 150 horsepower and 151 lb.-ft. torque. This powertrain is coupled to a six-speed automatic transmission with paddle shifters on the steering wheel that allows you to shift gears manually if desired.
There are also two higher level engines available: a 2.0-liter turbocharged four cylinder that produces 175 horsepower and 195 lb.-ft torque, as well as a new plug in hybrid model called "Ioniq Electric."
The 1.6-liter turbocharged engine has a fuel economy rating of 30 mpg in the city and 37 mpg on the highway. The 2.0-liter turbocharged features a slightly lower 25 mpg city and 31mpg highway rating, but it comes with better performance than the base model. Hyundai also offers a fuel efficient plug in hybrid model called the Ioniq Electric. It has an electric motor with 124 horsepower and more torque than its gasoline counterpart at 291 ft-lb.